Artistic Director – Ensemble de Musique Interactive - (France)
Deputy Artistic Director - Electronic Music Week - Shanghai - (China)
Head of the Department of Composition in the Conservatoire of Montbéliard - (France)
Visiting Scholar - Harvard University - Cambridge - (USA)
Guest Composition Professor - Conservatory of Music - Wuhan - (China)

Camille Fournet Foundation is the main sponsor of the Ensemble de Musique Interactive - artistic director Jacopo Baboni Schilingi
---
Jacopo Baboni Schilingi is an Italian/French composer who has mixed different mediums in order to create new musical perspectives and erase artistic borders.
---
March 3rd 2016

« Augmented Violin »
Pierre Boulez - Anthème-II
Jacopo Baboni Schilingi - Aura-Phoenix
Jimi Hendrix- Transcriptions
Why Note - Atheneum-Centre Culturel de l'Université de Bourgogne - Dijion - France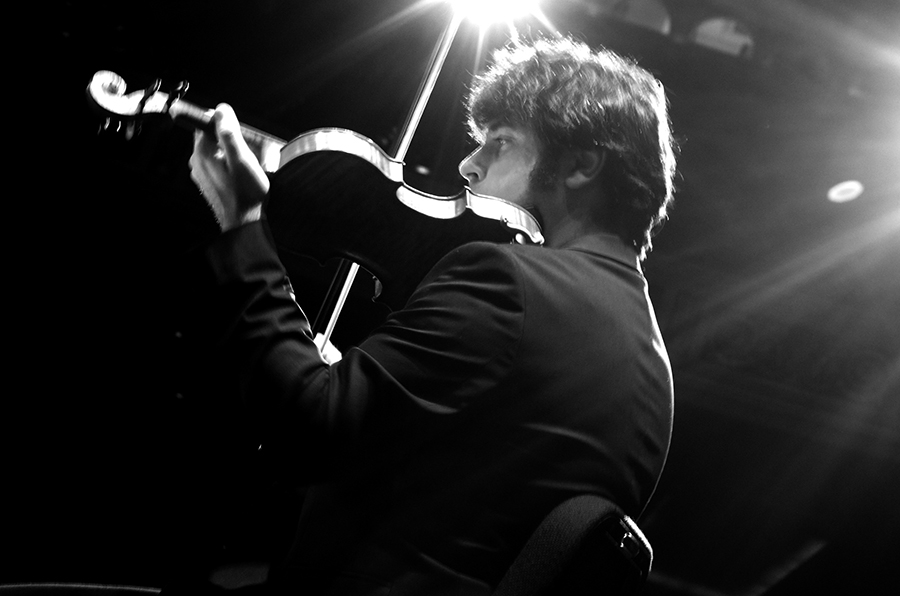 ---
April 3rd 2016
Nadia Ratsimandresy - Concert for Ondes Martenot and live computer
Recital onde Martenot and Live computer

Karlheinz Stockhausen - Solo für Melodie-Instrument mit Rückkopplung (1965-1966)

Carl Faia

- Wake


Jacopo Baboni Schilingi

- La dernière onde - pour un enfant retrouvé mort sur une plage en été


Mimetic

- Douceur Apeurée
Espace Multimedia Gantener - Bourogne - France
---
April 3rd 2016

« Body Score installation »
Installation of photo and generative music - photo and music by Jacopo Baboni Schilingi
Espace Multimedia Gantener - Bourogne - France
---

---
Mai 6th 2016

« Sous les drapeaux » - movie projection
Film by Henry Colomer
Music by Jacopo Baboni Schilingi
Documentrary movie, recorde by Orchestre National d'Île de France
Conductiong - Christophe Mangou
Saint-Quentin-en-Yvelines (78) Théâtre - Scène nationale Petit théâtre - 78180 Montigny-le-Bretonneux, France
Sous les drapeaux
Special Mention at the International Festival of History Film 2008 Pessac (Gironde).


Fascinating collection of images collected archives to commemorate the ninetieth anniversary of the armistice of 1918, under the flags juxtaposes the most contradictory images, images of social inequality, carefree dancing, frenzied diatribes and
various processions, to project ourselves in the heart of deadly explosions.
And this without comment, to preserve the power of movies, and prevent the viewer to take refuge in some vain attempts to explain or in words that would be necessarily too.


Hence the success of the music of Jacopo Baboni Schilingi, for orchestra,

amplified

string quartet and live electronics, which does not replace the voice off or the old boxes, but by his lyricism makes some unreal images, silhouettes
moving on an almost motionless song, while obsessive rhythm of walking emphasizes the obvious linkages and coherence of History.
Music also highlights the absurdity of the facts.
"Exercice of style" according to the composer himself, that partition was a laboratory of Anima-Phoenix while submitting to the wishes of the director, with its share of waltzes and hi-hat, plus a famous but well disguised anthem
and some more dramatic effects when fighting invite them.
Beginning and end of the film announce the same events.
Music organizes thi scenario and makes the confrontation to the images so striking that we can not escape unscathed.
---
PAST ACTIVITIES IN 2015
---
Opening of the « Venus à gonds »
Interactive installation by Arman, Jacopo Baboni Schilingi and Tita Reut new music version
---
April 18th 2015 (from April 18th to June 26th) Exhibition and interactive installation, Abbey Saint Riquier - France
« Créatures imaginaires » World premiere of a new interactive installation Jacopo Baboni Schilingi
Based on several Michel Jaffrennou's drawings, as part of the Anima / Animal exhibition Abbey Saint Riquier – France
---
May 9th 2015 (from May 9th to November 22nd 2015)

World premiere of the music « Respiro della voce »
For the exhibition of the artist Sarkis - Turkish Pavilion at the Biennale of Venice - Italy
---
May 26th

2015 Cycle Nox
With Tamara Bounazou and Axelle Saint-Cirel, concert by Ensemble de Musique Interactive in collaboration with the Conservatory of music of Montbéliard – International Alba Festival - Alba – Italy
---
June 1st 2015 (from 1st to 14th)

China tour with violinist Guillamue Antonini and the Ensemble de Musique Interactive
With a recital for violin and live computer - world premiere of « Aura-Phoenix » by Jacopo Baboni Schilingi at Meridian Space in Beijing and the Conservatory of Music of Wuhan – Chine
---
June 1st 2015 (from 1st to 5th)

Body scores
Artistic residence at La Plantation with Jacopo Baboni Schilingi and the photographer Philippe Bouvet – Beijing - China
---
June 23rd

2015 Piano recital Véronique Ngo Sach Hien with the Ensemble de Musique Interactive
Recital for piano and live computer including the world premiere of the work « Cinq réflexions pour piano and live computer » by Jacopo Baboni Schilingi in the New York City Electroacoustic Music Festival - New York – USA
---
June 29th

2015 « Créatures imaginaires »
Sound installation by Jacopo Baboni Schilingi based on several Michel Jaffrennou's drawings, as part of « Back to the Trees » exhibition - Besançon – France
---
July 4rd (from 4rd to 6th)

Jacopo Baboni Schilingi will be chairman of PRISMA 2015 meeting at IRCAM
Centre Pompidou - Paris – France
---
July 10th (from 10th to 26th)

music by Jacopo Baboni Schilingi for the installation by Miguel Chevalier « Pixels Wave 2015 »
Malta Arts Festival – Malta
---
June 29th

2015 « Trianguconcéntricos Fluo Rouge »
Sound generative installation on the mobile sculpture of Elias Crespin - Kleines Museum - Weissenstadt - Germany
---
September 23rd

2015 Lap Top performance by Jacopo Baboni Schilingi

with KOK THLOK (musicians with ethnic instruments from Cambodia) - Ensemble de Musique Interactive at Cambodia living Art - Phnom Penh (Cambodia)

Organised by Delphine Fabbri Lawson
---
September 25th

2015 Performance by Jacopo Baboni Schilingi (Lap Top)

with Arn Chorn-Pond (ethnic flute) - Siem Reap (Cambodge)

Organised by Delphine Fabbri Lawson
---
September from 27th and 28th

2015 Body Score « Disparition »

Conception Jacopo Baboni Schilingi in collaboration with the photographer Delphine Fabbri Lawson - Phnom Penh (Cambodia)
---
September from 28th

2015 Live performance on Body Score « Disparition »

with Delphine Fabbri Lawson and percussionists from KOK THLOK at The Plantation - Phnom Penh (Cambodia)
---
September 30th

2015 Upcoming album release Nox by Jacopo Baboni Schilingi

with Tamara Nour Bounazou and Axelle Saint-Cirel - Paraty-Label in association with Harmonia Mundi Distribution
---
October 1st

« Méta-Ivry 2015 »

Video by Miguel Chevalier with music by Jacopo Baboni Schilingi – Exposition Méta-Territoires 2015 - Galerie Fernand Léger - (from October 2nd to December 19th ) - Ivry Sur Seine (France)
---
October 7th, 8th and 9th

2015 First International Symposium - ARIANE#

Conception: Jacopo Baboni Schilingi
Coordination: Jacopo Baboni Schilingi and Patrick Froesch

Symposium on education, creation, digital art and new technologies devoted to music composition for young students. In collaboration with DRAC-Franche Compté, Conservatoire du Pays de Montbéliard, Conservatoire de Musique de Belfort, Musée Peugeot - (France)
---
October 7th

2015 Conference by Jacopo Baboni Schilingi « Ecole de la création - nuova pratica »

during the international symposium - ARIANE# - UTBM - Montbéliard (France)
---
October 7th

2015 Cycle Nox by Jacopo Baboni Schilingi

Tamara Nour Bounazou and Axelle Saint-Cirel, concert by Ensemble de Musique Interactive in collaboration with the Conservatory of music of Montbéliard - Musée Peugeot - Sochaux (France)
---
October 8th

2015 Concert by Ensemble de Musique Interactive

with Anne NARDIN (flute), Véronique N'GO SACH HIEN (piano) and Szuwha WU (violin) - compositions by Pierre Boulez (Anthème-II), Giacomo Platini (Vertigo), Pierre Jodlowski (Serie Noire), Kaija Saariaho (Noa Noa) - Direction Jacopo Baboni Schilingi - Belfort (France)
---
October 11th

2015 Quatuor Leonis with the Ensemble de Musique Interactive

Concert for string quartet and live computer including « De la nature du Sacre » by Jacopo Baboni Schilingi - Biennale di Musica di Venezia - Sale d'Armi Arsenale - Venice (Italy)
---
October 15th

2015 Cycle Nox monographic concert by Jacopo Baboni Schilingi

Tamara Nour Bounazou and Axelle Saint-Cirel, concert by Ensemble de Musique Interactive - Yishu-8 - Beijing (China)
---
October 16th

2015 Cycle Nox monographic concert [special format named « silent concert »] by Jacopo Baboni Schilingi

Tamara Nour Bounazou and Axelle Saint-Cirel, concert by Ensemble de Musique Interactive - The Meridian Space - Beijing (China)
---
From October 17th to November 22th

2015 Body Score « Nox »

Interactive installation (a part of Talking objects) - Music and conception by Jacopo Baboni Schilingi, photographer Philippe Bouvet - La Plantation - Beijing (China)
---
October 17th and 18th

2015 Cycle Nox monographic concert by Jacopo Baboni Schilingi

Tamara Nour Bounazou and Axelle Saint-Cirel, concert by Ensemble de Musique Interactive - La Plantation - Beijing (China)
---
October 19th

2015 Nox-II - by Jacopo Baboni Schilingi

commission by EMW-2015 for two voices (Tamara Nour Bounazou and Axelle Saint-Cirel) and real time video (Cyril Michaud) - concert by Ensemble de Musique Interactive - HeLuTing Concert Hall - Shanghai (China)
---
October 26th

2015 Cycle Nox - monographic concert by Jacopo Baboni Schilingi

Tamara Nour Bounazou and Axelle Saint-Cirel, concert by Ensemble de Musique Interactive - Istituto Italiano di Cultura di Tokyo (Japan)
---
October 27th

2015 Conference by Jacopo Baboni Schilingi on Italian contemporary music

Instituto Italiano di Cultura di Tokyo (Japan)
---
November 2nd

2015 Conference by Jacopo Baboni Schilingi « Morphological music analysis »

during the NATIONAL SYMPOSIUM OF MUSICAL ANALYTICS - Conservatory of music - Wuhan (Chine)
---
November 5th

2015 Body Score « Nox »

Interactive installation (a part of Talking objects) - Music and photos by Jacopo Baboni Schilingi - INNO-Design - Arsenal - Metz (France)
---
November 5th

2015 Monographic concert by Jacopo Baboni Schilingi

with Nox (voices: Tamara Nour Bounazou and Axelle Saint-Cirel), Decode-II (percussions: Clément Gérard) and Spatio Intermisso (saxophone: William Besserer) - concert by Ensemble de Musique Interactive - INNO-Design - Arsenal - Metz (France)
---
November 6th

2015 « Decode-II » for percussion and live computer by Jacopo Baboni Schilingi

percussionist Spela Mastnak (Names Ensemble) - Salzburg (Austria)
---
November from 12th to 15th

Complexe Meshes 2015 by Miguel Chevalier

Generative and interactive installation with a new composition by Jacopo Baboni Schilingi - Festival LUMIERE - Cathédrale of Durham (England)
---
November 20th

2015 first premiere of « La dernière onde - pour un enfant retrouvé mort sur une plage en été » by Jacopo Baboni Schilingi for Ondes Martenot and live computer

Nadia Ratsimandresy (Ondes Martenot) - Commission by Festival Why Note - Dijon (France)

For this occasion some students from PESM of Dijon will perform Concubia nocte - in memoria di Luciano Berio (for voice and live computer), Decode-II (for percussions and live computer) and Spatio intermisso (for oboe and live computer)
---
December 3rd

2015 Cycle Nox monographic concert by Jacopo Baboni Schilingi

Tamara Nour Bounazou and Axelle Saint-Cirel, concert by Ensemble de Musique Interactive - The Spectrum - New York (USA)
---
December 10th

2015 Cycle Nox monographic concert by Jacopo Baboni Schilingi

Tamara Nour Bounazou and Axelle Saint-Cirel, concert by Ensemble de Musique Interactive - John Knowles Paine Concert Hall - Department of Music Harvard University - Cambridge (USA)
---
December 11th

2015 Master class by Jacopo Baboni Schilingi on Hyper Systemic Aesthetics

Department of Music Harvard University - Cambridge (USA)
---
Production team
Lionel Viard - In charge of the strategy and development of the Ensemble de Musique Interactive
Adeline Doddy - Administrator of the Ensemble de Musique Interactive
Thomas Aguettaz and Lenny Szpira - production assistants
Jules Négreir and Erol Koseooglu - software and hardware assistants
Christophe Vouaux - web designer