Jacopo Baboni Schilingi is a composer who has mixed different mediums in order to create new musical perspectives and erase artistic borders. Here you can listen and look at ARGO, his new project that transforms into music Jacopo's breathing. Red line when Jacopo inhales; blue line when he exhales. Green line when Jacopo is somewhere without internet connection.
---
ACTIVITIES IN 2017
---
From 9th to 23rd of September

« Immersion symphonique »

interactive installation « Immersion symphonique » by Jacopo Baboni Schilingi (conception and music realization), Remuald Boissenin (scenography) and Guillaume Bertrand (engineering and technology).

Festival de Musique de Besançon – France

The initial score will be revealed to visitors of the art installation according to the how audience will be. When there aren't any visitors inside the installation, the sound of the orchestra will be heard, like a vast sea of orchestral sounds. Once a visitor enters the installation, the music begins to reorder itself: where he stands, an extract of the score is automatically played. If this same person moves to other spots, the installation will play different instrumental families, from the same score, which repeat alternately.

---
From 10th to 13h of June
« PRISMA MEETING » IRCAM – Place Igor Stravinsky – 75004 – Paris (France)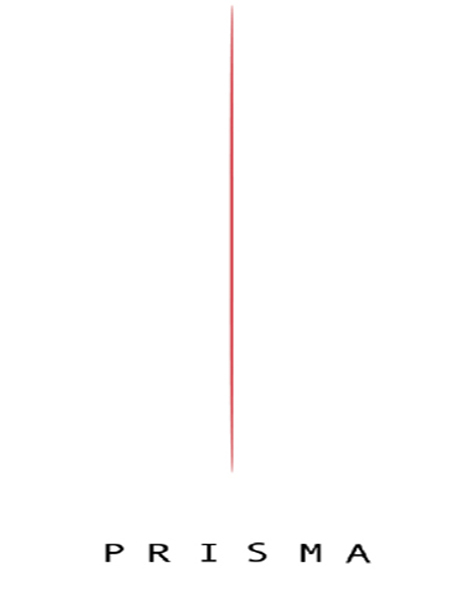 PRISMA means Pedagogy and International Research on Aided Musical Systems. In 1999 I started this new musical research group (called PRISMA) as a project consisting of five phases: research, diffusion, production, promotion and teaching. The aim was to create music founded on complex formal structures but still able to talk to emotions. PRISMA intends to work on new composing techniques in order to establish new aesthetics and new practices where calculation and freedom meet into the musical writing. PRISMA group is formed by renown composers who decided to work together to define a peculiar musical identity. PRISMA focus its activity on the relationships among analysis, musical formalisation and composition. For this reason, PRISMA is dedicated to the study of musical systems (from the ancient to the more recent) to define the hypothesis of new ways for writing musica.
After more than 18 years PRISMA is still the same: a context that gives the opportunity to make composers meet in several countries (Austria, Canada, China, UK, Finland, France, Italy, Portugal, USA etc.) and work together in music research.
---
June 18th 2017
« PRE-TENSIO » in collaboration with Colin Roche (Project Bloom) - live performance Body Score with musician - Au Charbon ! – Anaïs de Matos and Mehdi Moussaoui (models) - Ivry sur Seine (France). From 08h00 a.m. to 8h00 p.m.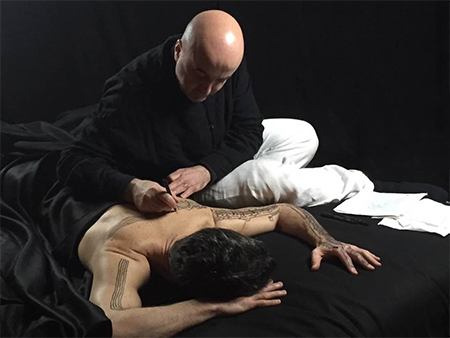 Music is well and truly alive today. Through the various forms that it takes, so-called 'contemporary' music conveys in innumerable ways the dynamism and diversity of musical creation at the beginning of the 21st Century. For Jacopo Baboni Schilingi, this living aspect of music is fundamental, even primordial. He concentrates on the here and now, the present, the very instant in which music is thought up, composed, where it is eventually played. He develops this very specific connection he has with living music, this "instantaneity" is clear as he works on the various stages involved in composing, as he writes the score and his interpretation on stage, live. As well, he sometimes turns to digital music and processing sound in real time. Being a composer is, above everything else, about having music 'in your blood', 'in your bones'. It's the feeling of music vibrating in your body, in an organic way, and to feel it in the very depths of your heart and soul. On the surface, you experience it as a shiver which runs all down your body, raising each goose bump, running all the way up your spine to the top of your hair, a 'skin orgasm' which only the emotion of music can cause.
During twelve hours Jacopo Baboni Schilingi realizes a live bodyscore on two models: a woman (Anais de Matos) and a man (Mehdi Moussaoui).
---
June 30th 2017
« De la nature du mythe »for SABRE (augmented bass clarinet) and live computer – Matthias Müller SABRE - Tonhalle / ZHdK, Pfingstweidstrasse 96 - Konzertsaal 1, Ebene 7 - 19:30 - Zurich (Switzerland)
De la nature du mythe belongs to the cycle « De la nature des choses » for instruments and live computer. Matthias Müller has commissioned this composition Jacopo Baboni Schilingi three years ago. It is a composition that uses, as much as possible, the expressive possibilities of SABRE instruments, allowing the musician to control not only his instruments but also the sound distribution and the light system.
---
From June 10th 2017 to the end of Jacopo's life…
Generative music installation « Argo » - by Jacopo Baboni Schilingi – Paris (FRANCE)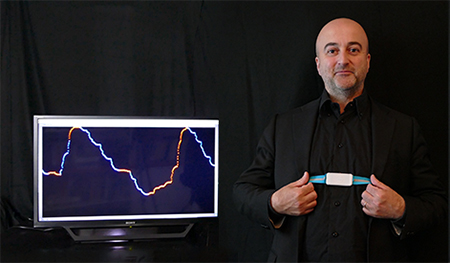 Argo is a project that, starting from this month of June, it has duration length equal to the rest of Jacopo's life time. Based on David Kuller's technology (My-Air) Baboni Schilingi wears 24h 7/7 a special device conceived to measure his rib cage. Two colours are dedicated for mapping his breath: red when Jacopo inhales, blue when he exhales. A dedicated computer reads in real time the data coming from his device: how long Jacopo is breathing, how deep are his last ten seconds or one-minute breaths, how fast Jacopo is breathing, how expanded or compressed is his rib cage, etc. All these data are converted into musical functions in order to generate a not determinate duration music. When Jacopo is recharging ARGO battery, or when he is somewhere without internet connection, ARGOI reads Jacopo's last twelve hours breathing and in this case, it uses a green colour. Baboni Schilingi is particularly involved in projects that create bridges between human body and the world of machines. Argo is one part of the body centred artistic research of Baboni Schilingi.
---
From June 10th to September 10th – 2017
Generative music installation « Music for sixteen » by Jacopo Baboni Schilingi – Exhibition Artists & Robots – EXPO UNIVERSEL 2017 – co-organdized by the Réunion des Musées Nationaux – Grand Palais and Astana EXPO 2017 - Astana Contemporary Art Center – Astana (Kazakhstan).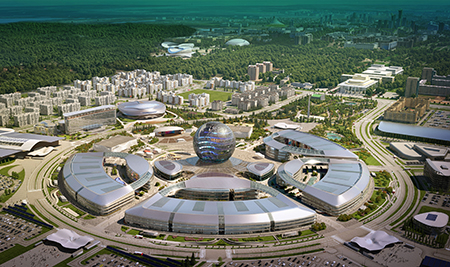 Jacopo Baboni Schilingi has been selected as the only composer to take part in the Expo-2017 inside the exhibition Artists & Robots organized by the Réunion des Musées Nationaux – Grand Palais. For this occasion, Baboni Schilingi will show a generative composition based on a new device conceived by David Kuller. This device (My-Air) allows the composer to send by the internet his owns breathing data: how much Jacopo is inhaling, how long he has been exhaling, how deep his last 10 seconds breaths have been, how fast he is breathing and so on. All these data are converted into musical functions in order to create a music that is always different. Music for sixteen is a part of body centred project conceived Jacopo Baboni Schilingi, that looks for something in between the world of the machine and the one of the human body.
---
Mai 17th 2017
Conference about « THE CONSTITUTION OF ARCHETYPES IN COLLECTIVE INTELLIGENCE AND THEIR THICKENING » (in French « La constitution des archétypes dans l'intelligence collective et leur épaississement ») - Centre Tchèque – Paris - (France)
http://acrossfestival.weebly.com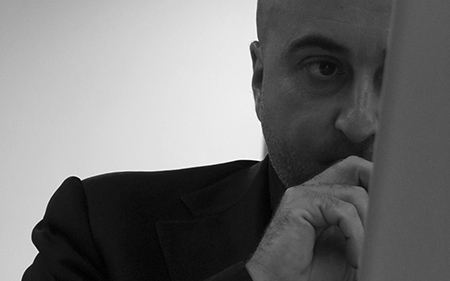 ---
Mai 5th 2017
Taking part in the symposium « ART-CRÉATION-RECHERCHE » - Vitry Sur Seine - (France)
http://acrossfestival.weebly.com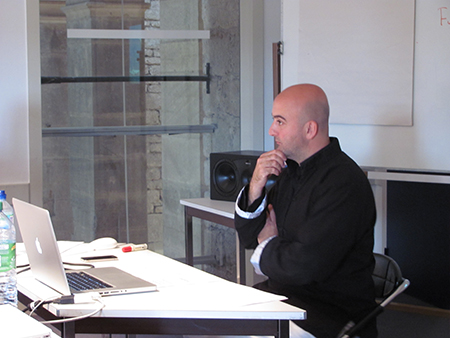 ---
Mai 5th 2017
« SHIFT-II » for saxophone and live computer - Davy Basquin saxophone - Festival aCROSS 2017 - Vitry Sur Seine (France)
http://acrossfestival.weebly.com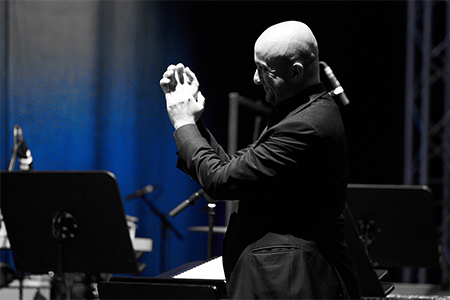 ---
From April 27th to 5th of Mai 2017
Composition residence with young calligrapher Miyuki Jinnai - music transformations of original Haïkus from BASHÔ (1644-1694) – Istituto Italiano di Cultura – Tokyo (Japan)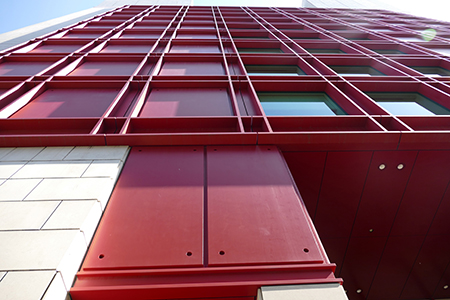 ---
From 16th to 22nd of April 2017
Artistic residence for « TERRA a tribute to women » with PeiJu Chien Pott (dancer) and Luca Veggetti (choreographer) - New York - (USA)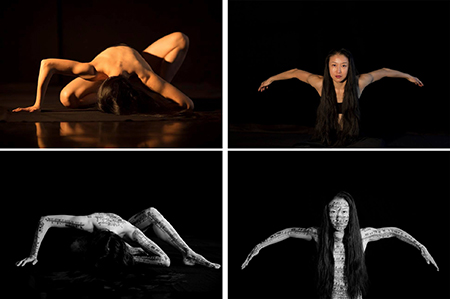 ---
April 6th 2017
« PORTRAIT DE JACOPO BABONI SCHILINGI » on France Musique - Maison de la radio – interview realized by Arnaud Merlin – Paris (France)
https://www.francemusique.fr/emissions/le-portrait-contemporain/le-portrait-contemporain-du-mercredi-5-avril-2017-33065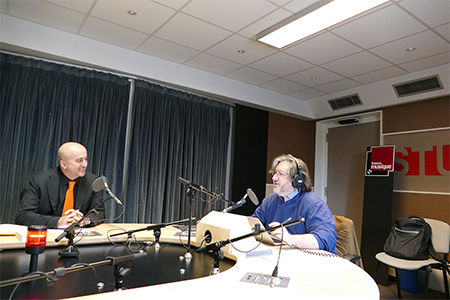 ---
From April 1st to September 30th 2017
New generative and composition for the installation by Miguel Chevalier - IN-OUT / PARADIS ARTIFICIELS
Festival International des Jardins 2017
Chaumont-sur-Loire - (France)
http://www.miguel-chevalier.com/en/actualites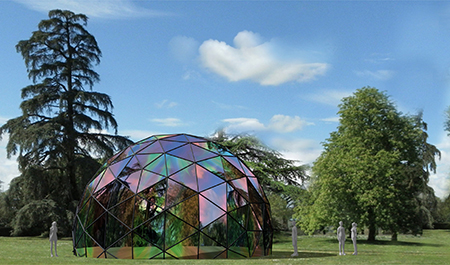 ---
From February 21st to May 6th 2017
New generative composition for the installation by Elias Crespin - Circular Inception.
Slow Motion - Exposition
Maison de l'Amérique Latine
217 Boulevard Saint-Germain - 75007 Paris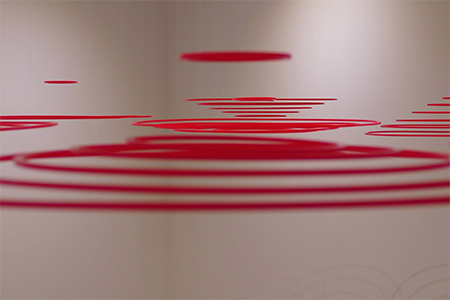 ---
February 8th 2017
PRE-TENSIO
live performance in collaboration with Colin Roche (Project Bloom) - live Body Score with cellist Lola Malique - Le Charbon - 54, rue Vérollot - Ivry sur Seine (France)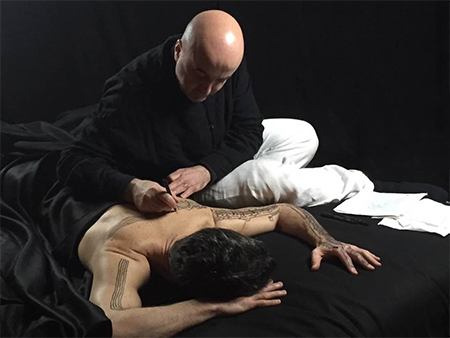 ---
February 5th 2017
Quando (non) c'è più silenzio – world premiere
for flute and live computer by Jacopo Baboni Schilingi - Marie Sønderskov (flute). Symfonisk Sal - Thomas Jensens - Aarhus - Cultural Capital 2017 - (Denmark)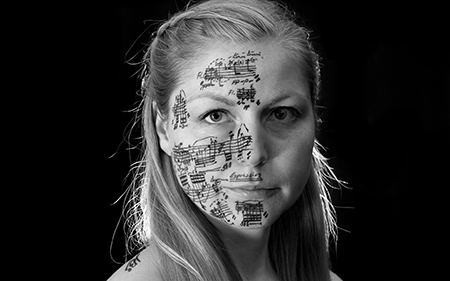 ---
February 3rd 2017
Violin masterclass and composition masterclass by Guillaume Antonini and Jacopo Baboni Schilingi
Augmented Violin - Guillaume Antonini (violin) and Jacopo Baboni Schilingi (Lap Top) – Disparition (Jacopo Baboni Schilingi), Hommage à Jimi Hendrix (transcription by Guillaume Antonini and Jacopo Baboni Schilingi) and Aura-Phoenix - quarto quartetto (Jacopo Baboni Schilingi) - Auditorium du Grand Avignon – Le Pontet - (France)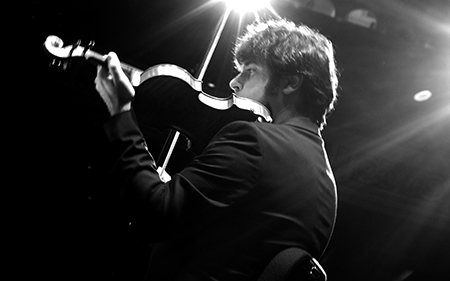 ---
January 31st 2017
Conferences « Le récit en musique : la trace et sa mémoire »
Ecole Supérieure d'Arts de Lorient (EESAB) - Lorient – (France)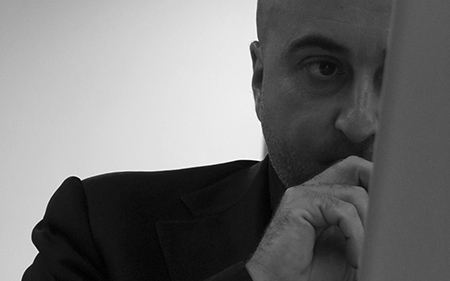 ---
January 28th 2017
Monographic concert by Jacopo Baboni Schilngi
Media nocte and Concubia Nocte - Axelle Saint-Cirel (mezzo-soprano), Decode-II - Clément Gérard (Percussions) and Spatio intermisso (temporis) - William Besserer (soprano saxophone) with real time interactive images by Cyril Michaud - Ensemble de Musique Interactive - MOLOCO – AUDINCOURT (France)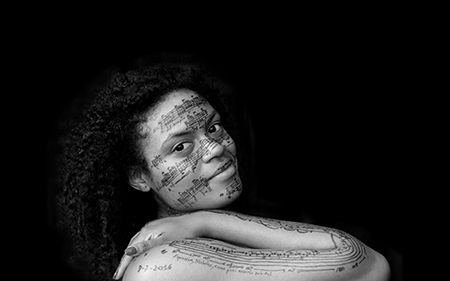 ---
January 21st 2017
ARGO
working session on the new interactive, generative body-centred installation based on breathing sensors with David Kuller technology – AirGo – Milan – (Italy)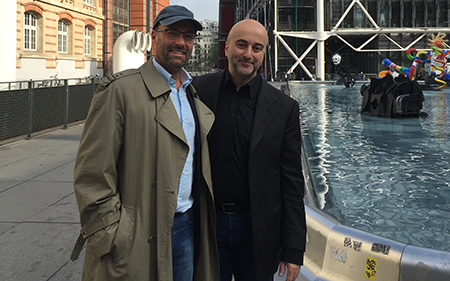 ---
From January 18th to 20th 2017
First workshop for the TINA Prize
with Marco Contini (Galleria Contact – Kappabit) and Elena Giulia Abbiatici (curator) – Rome – (Italy)

---
January 17th 2017
Master class – interactive and generative composing
INA – Bry-Sur-Marne - (France)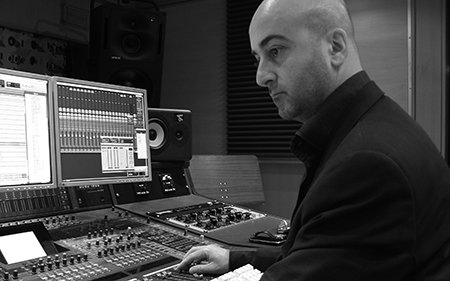 ---
January 3rd 2017
Master class « P.I.A.T.I. Production & Innovation Art Technologie Interactivité Vers un nouveau modèle de développement de l'innovation artistique et industrielle » Faculté Arts, Lettre, Langues - Saint-Etienne – (France)

---
Artistic and production team
Lionel Viard - Responsible of the strategy and development of the Ensemble de Musique Interactive
Antoine Ségovia - Off-topic – Producer
Sound and software assistants – Thomas Aguettaz, Lenny Spzira, Clément Gérard
Adeline Doddy - Administrator of the Ensemble de Musique Interactive
Christophe Vouaux – web designer
Student assistants : Yao Xi, Hina Razanamasy, Victoire Morin, Matisse Vrignaud